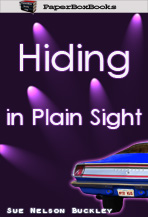 I am a happy girl, my new novel is up and already selling (and it hasn't even hit half of our distributers yet).
Hiding in Plain Sight is the first young adult novel I've written specifically for the young adult genre. My other published YA novel, The Trouble with Jake, was originally written as an adult romance and the re-written for a younger audience.
Hiding in Plain Sight is set in the neighbourhood I grew up in with scenes taking place in my old High School. Here's a bit about the story:
Hilary is excited when a new family moves in next door. It doesn't hurt that they have a gorgeous son. But even his good looks and classic car can't distract her from the strange things she starts to see.
Ben and his family are from the planet Myonus. They barely escaped when the Hurliingen tried to take-over their planet's government. But, even on Earth, they aren't safe. Ben and his kid sister, Alex, have something the Hurliingen need to squash the rebellion and complete their conquest.
The Hurliingen are coming to get Ben and Alex, can Hilary help stop them?
Hiding in Plain Sight is already available on Amazon
for their Kindle and through Smashwords for all other formats including the Nook, KoBo, Sony e-Reader and iPad.