Where is White's Bluff and why did I use it as a location for my story about Jake?
What's the deal with the boat?
Well, White's Bluff is a real place halfway up Long Reach on the Saint John River in New Brunswick Canada.
When I was 12, my Dad bought and old lobster boat. It was 40 feet long and 12.5 wide across the beam (it's widest point). We cruised the Saint John and Kennebecasis Rivers until after I graduated from the University of New Brunswick.
Just like Kathryn, my heroine, I stopped spending weekends on the boat because I was working. When ever I could, I would drive upriver to meet my family where ever they were tied up for the night and go back to town the next day for another shift.
Unfortunately, there was no Long Reach Bed and Breakfast in the real White's Bluff, so I took a bit of artistic licence with that and a few other landmarks. But the wharf itself is written exactly as I remember it. It was my favourite spot on the whole river.
I was back in New Brunswick this year for Christmas. It seemed rather fitting that as I flew into Saint John we came in over Long Reach. There, below me by only 10-15,000 feet, was the wharf at White's Bluff. I took it as a good omen since my book was due to be published a few days later.
While at my parents house, I started flipping through Mom's old photo albums and found pictures from our days on the river. I thought I'd share them with you. I'd hoped to take a drive up the river while I was home, but time and the weather worked against me.
Even though I didn't fall from the upper edge of the wharf myself, I wonder if there is a Jake and if he'd mind that I told his story…twice.
If you're interested in reading my stories about Jake please visit PaperBox Books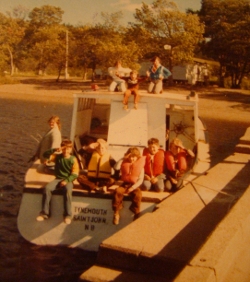 Our first trip on the boat while it was still a lobster boat. We invited all our friends.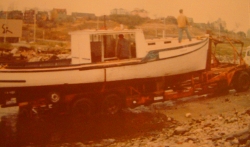 Pulling the boat out of the water to take it home for re-modeling. The boat trailer was a de-constructed double decker car trailer.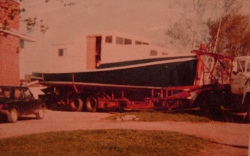 By the next spring the boat had a whole new look. This happened almost every winter as Dad thought of new changes to make. I learned a lot about construction back then 🙂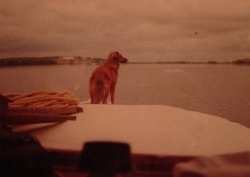 Back then we had a dog named Stanley. His perch was always on the point of the bow ready to warn us of danger.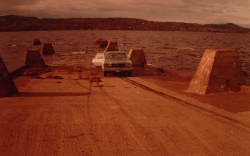 You might recognize this picture as the one on the my book covers. I sort of erased our old car from the image (sorry Dad). This was taken during the spring freshette when the water was really high from all the melting ice.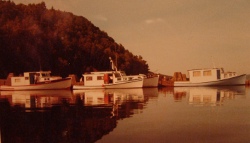 There were a group of families we boated with. Here are most of us tied up to the wharf at White's Bluff. Our boat is the back one, with yes, another different look.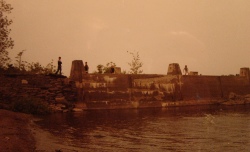 This is it. The famous upper edge of the wharf where Kathryn fell from. Happily, art in this case, didn't imitate life, I didn't fall from here.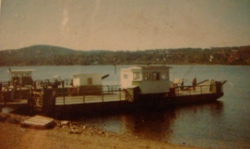 The ferry has changed a lot since then, but here is the ferry at Westfield circa 1980.