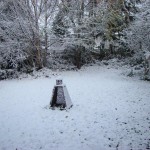 I know the people in the rest of Canada are laughing but we have snow. Where the rest of the country is ready for snow by the time November hits, Vancouver isn't.
In fact they issued a 'heavy' snowfall warning last night – expecting 5-10 cm.
My roommate (a fellow back-Easter) looked out side and asked, " Is this what they were panicking about?"
I reminded him where he was. This is after all the 'tropic' of Canada. Despite hosting the Winter Olympics last year, Vancouver is not a snow-capable city. Luckily, we almost don't have snow any more. It's just past noon and the 2-3 inches we got last night is almost gone. (That almost never happens back East).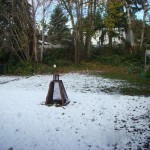 It's not really anyone's fault. It's not cost effective to have a huge fleet of snowplows waiting for the few inches we get most winters. Even by 8am this morning, the pavement was bare. No plows needed.
I've been here 8 years now and experienced only 2 snowy winters. One lasted 2 weeks and the other 4. The other 6 winters barely saw a flake hit the sidewalk without melting.
My only regret is that I didn't bundle up to go outside and build a snowman while I could. Although, staying in my cozy jammies and sipping coffee was a good alternative.